Home

>
Employment

>
Business Grants
Business Grants for the Disabled
Making the jump to self employment can be a daunting task with fear of losing a regular income, negotiating changes to existing benefits and finding the capital to set up a new business.
But being your own boss is a popular choice for both the disabled and carers as a way of finding rewarding work with flexible hours that can be tailored to meet your individual needs
As well as providing the opportunity to work at your own pace in an accessible location of your own choice.
So, what do you need?
A business idea.....start up finance.....a network of support.....
All of these and more......
It's important to discuss your business proposals with employment experts such as Business Link or a local enterprise agency.
They can advise on the viability of your ideas, government initiatives and practical support such as drawing up a business plan.
Your local Job Centre Plus or Citizens Advice will be able to tell you about "in work" benefits such as the Disabled Person's Tax Credit and Access to Work.
Disability Living Allowance (DLA) isn't affected by self employment and the Carers Allowance has the usual restrictions whatever your employment status.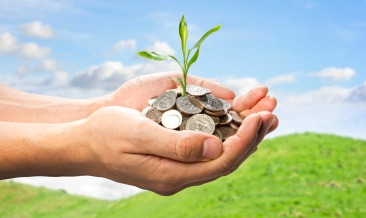 Moving into self employment may be isolating with no office banter or colleagues to bounce off ideas.
So, finding a local network of like minded people through organisations such as the Federation of Small Businesses or Disabled Entrepreneurs can make a difference and keep you up-to-date with funding opportunities.
Do check your local council's website to see if they have any funding for small business start up's or improvements to local businesses.
These will vary between regions and counties and will be restricted to a specific geographical area.
Other sources of finance and business support include......
Business Link is the Government's on-line resource for businesses with detailed information on starting, running and growing a business.
It has a comprehensive guide on obtaining finance and grants including an interactive Business Support Finder to search for grants, loans and business support.
Their Growth and Improvement Service has videos, tools and articles to help take businesses to the next level.
Specific business information for other parts of the UK:
Scotland: Business Gateway
Wales: Business Wales
Northern Ireland: Northern Ireland Business
A UK organisation run by disabled entrepreneurs for disabled entrepreneurs.
It supports anyone with a disability to become an entrepreneur by providing business networking opportunities and news on disability related business developments.
There is an on-line blog but full benefits are obtained through purchasing the membership package.
www.disabledentrepreneurs.co.uk
The Frederick Foundation is a charity that helps disadvantaged people to set up or expand their own business. It is open to sole traders, partnerships and limited companies.
The Foundation operates in the south of England covering Devon, Somerset, Dorset, Wiltshire, Gloucestershire, Oxfordshire, Buckinghamshire, Berkshire, Hampshire, Isle of Wight, Surrey, Sussex and Kent.
Loans vary from a maximum of £10,000 (average £5,000)for start-up businesses and a maximum of £20,000 for established businesses. Repayments are negoitated over 2 to 5 years depending on the amount borrowed.
To apply: complete the on-line form to request an application pack. The application form should then be forwarded with a business plan and supporting documentation to your local office.
New Enterprise Allowance (NEA)
The New Enterprise Allowance provides business support to individuals who have received Jobseekers Allowance for at least six months and have been assessed as having a viable business idea.
The scheme offers a start-up loan of £1,000 with expert help and advice from a business mentor.
It will also support the business for at least six months and pay a weekly allowance for 26 weeks.
NEA is managed by Job Centre Plus who will also be able to assist with benefit calculations to help you decide if the scheme is financially viable for your own situation.
Disabled applicants for the New Enterprise Allowance are also eligible for Acesss to Work funding.
PRIME is the Prince of Wales' Initiative for Mature Enterprise.
It supports unemployed people over the age of 50 who would like to set up their own business.
The organisation runs courses workshops, events and networking opportunities. The on-line community forum is currently closed.
It also provides free essential information on starting and running a business. This includes videos on how to register your business and record keeping. There is also an e-learning guide to setting up your business, marketing and business planning advice
The Princes Trust - Enterprise Programme
The Princes Trust's Enterprise Programme supports young people aged 18-30 years who have a business idea.
Applicants must be unemployed or working less than 16 hours a week and live in England, Wales or Northern Ireland.
It provides the opportunity to explore the viability of their business ideas and to obtain advice on employment options. It may also provide financial support to start your own business and business mentoring.
The Trust has also produced a number of free downloadable guides to help in starting a business.
To register your interest complete the on-line Enquiry form.
Start Up Loans is a Government initiative chaired by serial entrepreneur James Caan for young people aged 18 to 30 years living in England and Northern Ireland.
If you are thinking of starting your own business and are keen to have someone help you can apply using the on-line form.
Every entrepreneur who is accepted for a loan will get a mentor to help guide you through your business choices to help turn your dream into reality.
The Stelios Award for disabled entrepreneurs in the UK is sponsored by Sir Stelios, the founder of EasyJet and is run by Leonard Cheshire Disability.
It has a prize of £50,000 awarded to the disabled entrepreneur who can show how this money will make a major difference to their business. Two runner-ups will recieve a prize of £1,000 each.
Those eligible to apply must:
Have a disability or long term health condition
Own at least a 25% management stake in the company
Have a business turnover of over £10,000 and be UK registered business for between one and five years
Own a UK business
Have been trading for between one and five years
To apply download an application form or contact Leonard Cheshire Disability at innovation@lcdisability.org
The 2015 Award is now open for applications.  Closing date: 5pm on Friday 18th September 2015
Unltd supports individuals involved in social enterprise activity.
It provides grants for projects at the pre-start up or early start-up stage to help individuals realise a project whether it's a one off event or a longer term venture.
Unltd can offer funding up to £5,000.  It also runs workshops, networking and seminars.
---
Now check out the other pages......
Disability and Employment - Information and Advice
Disabled Employment Programmes
---
Return to Disability and Employment 


Return to Disability Grants Home 
---