To the June 2016 issue of Disability Grants News - a monthly round up of what's new on the Disability Grants website and resources for anyone with a disability, caring for or working with disabled adults or children.
New Page
VAT Exemption Scheme
What is it? Who can apply? What products are exempt?
Grant News
Children and Young People
Adults
Sport
Regional
Community Grants
Resources
And be sure to check out our new book:
"Additional Help for Additional Needs- Grants for Disabled Children"
Ideal for professionals supporting families with a child with additional needs.
All profits from sales helps maintain Disability Grants as a free resource.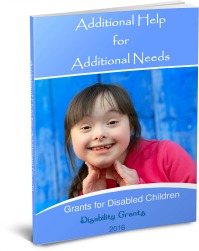 Disability Grants is a shared resource where everyone helps each other..... So, do participate and share your knowledge and experiences either on Your Grants or Disability Discounts.
Help and Be Helped
All the best

Julia Tyrrell
Founder of Disability Grants
Are there topics you would like the newsletter to cover? Tell us how Disability Grants can improve so we can help you more in the future.
Email: contact@disability-grants.org
Spread the word! If you enjoy reading this newsletter please forward it on to your friends and colleagues.
And...stay connected by joining us on Facebook
Disability Grants helping you save time
finding the right grant