To the July 2016 issue of Disability Grants News - a monthly round up of what's new on the Disability Grants website and resources for anyone with a disability, caring for or working with disabled adults or children.
Grant News
Children and Young People
Every child loves a bike and disabled children are no exception. To help find funds towards the additional cost of a specialised bike check out the "Grants for Trikes and Bikes" page.
And remember.....if you are purchasing any specialised equipment you can ask for VAT exemption. A declaration form can be downloaded from HM Revenue and Customs or from one of their local offices.
Caudwell Children are able to offer help towards therapy treatments for children with brain injuries or Autism.
The Lord's Taverners Sports Wheelchair Programme is currently open for applications for disabled young people under 25 years. Individuals and clubs may apply.
The Sailors Children's Society offers financial support for children of sailors from the Royal/Merchant Navies, the Fishing fleets including ferries, tankers and cruise ships.
Did you know that the Family Fund can consider support for young adults to learn to drive? Find out about their Driving Ambitions grant.
Grants up to £2,000 are available towards the purchase of musical instruments or/and equipment from the EMI Music Sound Foundation. Closing date 30th August 2016.
Adults and Families
Adults over 40 years suffering from life threatening or terminal illness may be able to apply to The HoneyRose Foundation for a special day out or weekend to remember and enjoy.
Are you over 50 years? Have you been unable to have a break from caring over the past year? If so, Saga might be able to help you with respite. Closing date for nominations 31st August 2016.
Community
Genetic Disorders UK reopens for applications on 1st August 2016. It offer grants to charities and support groups who care for children affected by a genetic disorders
If your local community group is near an Asda store you may be eligible for funding from one of their four funding programmes.
The Lloyds Bank Foundation for England and Wales opens their Invest funding for charity core funding from 5th September to 14th October 2016.
Benefits
The Government is considering changing the way Attendance Allowance works for people in the future. Attendance Allowance is a benefit for older people with disabilities. Join in Carers UK campaign to protect the Attendance Allowance.
And...don't forget......all Tax Credit claims have to be renewed by 31 July 2016
FREE Guides/Resources
Other Useful Resources
If you or anyone you know need emergency food the Trussell Trust have an online search to help you find your nearest Food Bank.
Information from ERIC about schools' and nurseries' legal duties to admit children with continence difficulties, including children that aren't toilet trained, and how schools can carry out these duties.
The Government have confirmed that from September 2018 every new teacher in England will have to learn about the needs of autistic children and young people as part of their teacher training.
And be sure to check out our new book:
"Additional Help for Additional Needs- Grants for Disabled Children"
Ideal for professionals supporting families with a child with additional needs.
All profits from sales helps maintain Disability Grants as a free resource.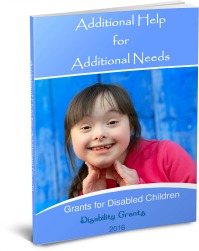 Disability Grants is a shared resource where everyone helps each other..... So, do participate and share your knowledge and experiences either on Your Grants or Disability Discounts.
Help and Be Helped
All the best

Julia Tyrrell
Founder of Disability Grants
Are there topics you would like the newsletter to cover? Tell us how Disability Grants can improve so we can help you more in the future.
Email: contact@disability-grants.org
Spread the word! If you enjoy reading this newsletter please forward it on to your friends and colleagues.
And...stay connected by joining us on Facebook
Disability Grants helping you save time
finding the right grant