To the August 2016 issue of Disability Grants News - a monthly round up of what's new on the Disability Grants website and resources for anyone with a disability, caring for or working with disabled adults or children.
New Resource

Over the summer holidays we have been collecting information on "Beach Wheelchairs for Hire in the UK". Thank you to everyone who has helped with their suggestions as we now have a map showing the locations of beaches hiring out beach wheelchairs.
Do let us know if you know of any not included so that we can add them to the map.
Likewise, if you have been away this summer and have stayed in a charity, reduced priced or accessible caravan do let us know so we can add the details to "Holiday Caravans for the Disabled"
Grant News
Updated Pages

If you were inspired by the Olympics and are waiting eagerly for the Paralympics why don't you check out the Parasport website to find a sport that works for your impairment.
And if you are looking for Sports wheelchair check out these guidelines from Loughborough University on selecting a wheelchair for court sports
Children and Young People
For help towards school uniform in England and Scotland check your local council's website to find out what help is available (each council is different). You can also get help in Wales and Northern Ireland. Eligibility is usually based on being in receipt of certain benefits.
Disabled young people moving into further or higher education may also be able to apply for financial help from Discretionary Learner Support to help those disadvantaged through low income or disability. Each institution has its own criteria and amounts awarded can vary.
The Ieuan the Lion Memorial Fund provides FREE holidays for Welsh families caring for a child or young person with a life-limiting conditions at their specially adapted and wheelchair accessible holiday home.
Adults
Get Online@Home is a Microsoft backed digital inclusion initiative to help people get set up with computer access at the lowest possible cost. Currently they're offering a Windows 7 refurbished PC including a 17" flat screen monitor, keyboard and mouse for £89.00 or Windows 7 refurbished laptop for £139.00.
Support for current, former and retired care professionals in need of financial assistance through loss of income or a personal crisis is available from the Care Workers Charity
Community
Table Tennis England are offering grants to groups for the purchase a Disability Table Tennis to promote participation.
Other Snippets
Did you know that a Railcard can give all sorts of discounts like days out and restaurants as well as cheaper fares? Check out our Cheap Rail travel page.
A free phone app to help disabled people and visitors plan trips is now available on the Apple and Android platforms. See Around Britain includes more than 500,000 photographs of facilities such as toilets, access information and disabled parking at points of interest.
Child Benefit stops on 31 August or after your child's 16th birthday if they leave education or training. It only continues if they stay in approved education or training, but you must tell the Child Benefit Office or your payments could stop.
And be sure to check out our new book:
"Additional Help for Additional Needs- Grants for Disabled Children"
Ideal for professionals supporting families with a child with additional needs.
All profits from sales helps maintain Disability Grants as a free resource.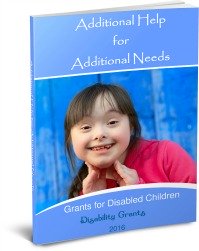 Disability Grants is a shared resource where everyone helps each other..... So, do participate and share your knowledge and experiences
Help and Be Helped
All the best

Julia Tyrrell
Founder of Disability Grants
Are there topics you would like the newsletter to cover? Tell us how Disability Grants can improve so we can help you more in the future.
Email: contact@disability-grants.org
Spread the word! If you enjoy reading this newsletter please forward it on to your friends and colleagues.
And...stay connected by joining us on Facebook
Disability Grants helping you save time
finding the right grant